Sitting long hours at the desk can lead to posture and back-related problems in the long run. The best way to address this problem early on is to switch to a height adjustable standing desk, be it your home office or workplace.
Adjustable standing desks not only save your back but also contribute to a massive boost in productivity by improving concentration levels. So the question remains, what is the best standing desk?
Too many standing desk options in the market make it difficult to choose the best standing desk for your needs. And if you want durability, affordability, and style all rolled in one desk, then it can be a daunting task.
We scouted for the best adjustable standing desks and came up with this list of the 10 best standing desks to help you make your pick.
The Best Standing Desks to Buy in 2021
1. Jarvis Standing Desk
Sustainably made from bamboo, the Jarvis standing desk is not only aesthetic but also eco-friendly. Add its high-quality adjustable frame to the mix and you get one of the best standing desks.
This electric adjustable standing desk comes with an LED programmable handset. Designed to keep you in motion, it adjusts at any position you want. It can go as low as a child sitting to as high as a 6'7″ tall person standing.
Jarvis bamboo standing desk is available in two sizes and four colors. And that means it will meet any work need and go with a variety of decor. Buy this Now.
2. Babin Height Adjustable Standing Desk
The Babin height adjustable standing desk works well if you need a height adjustable desk for home office with a decent amount of workspace. LED touch controls on the glass top help you adjust the height. And a button helps you lock and unlock the setting to avoid accidents.
It comes with a storage drawer to keep your supplies hidden but close at hand for when you need them. The good looks and rich features make it one of the best standing desks under 500 dollars. The classic color choices of black or white make this hight adjustable desk perfect for home office or workplace. Buy this Now.
3. Tempered Glass Electric Standing Desk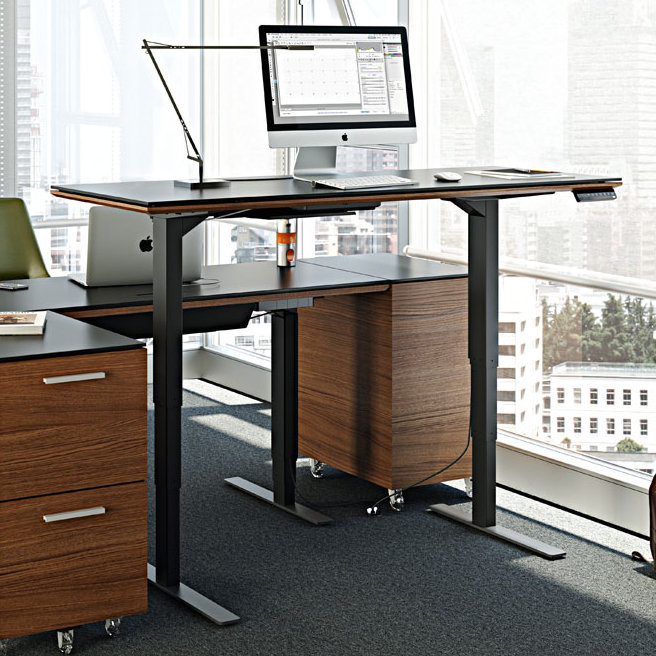 This glass-top adjustable standing desk is one of the best standing desks for your office as it's both durable and stylish. It has a tempered glass top to protect it from scratches and even fingerprints.
The best feature of this standing desk is the programmable keyboard. It makes it quick and easy to customize the desk height. A convenient wire management ledge ensures that your desk looks neat at all times. Buy this Now.
4. Move 60 Series Height Adjustable Desk
With a laminate finish that resists scratches and stains and a metal frame, this is one of the best-looking standing desks for your home office. This desk by Bush Business Furniture is not only about style though. The electric adjustable height desk lets you adjust the height from 27″ to 46.7″ with ease.
It can go from sitting to a standing position at speed of 0.78 inches per second and that too very quietly. You can also store your favorite heights with four programmable presets. It can withhold a weight capacity of up to 200 lbs because of its welded 16 gauge steel base legs. Buy this Now.
5. Sturdy Adjustable Standing Desk
This lever operated and easily adjustable standing desk is a sturdy piece built to last. It gets all its strength from two sturdy steel legs and reinforced inner legs. A high-quality laminate finish adds to the sturdiness while looking stylish.
Adjusting anywhere between 27.5″ and 44.5″, it can raise and lower up to 150 lbs. And that means you can comfortably place a CPU, monitors and other office accessories. Probably, one of the best standing desks if you're looking for a durable standing desk. Buy this Now.
6. Sway Height Adjustable Standing Desk
Made from the finest wood like birch, maple, and walnut, the surface of this stylish writing desk is handmade. Its dual motors allow you to adjust its height from 22.7″ to 48.7″ with a simple touch and that too silently.
The stability and fluidity of movement of this sit-stand desk will surprise you. Team it with an elegant area rug and a modern table lamp to transform your home office.
If you're looking for a contemporary looking adjustable standing desk, you can also check out the Shift Desk by Ergonofis. Available in modern colors, the Shift Desk offers a soft touch, antimicrobial work-surface. Buy this Now.
7. Modern Standing Desk for Home Office
This is one of the best standing desks if you don't want to compromise on style while looking for functionality. While the large open surface gives you ample space to work, the elegant design makes it a stylish desk to own.
This desk uses Airtouch technology that allows for uniform motion. It ensures smooth, easy, and quick adjustments as if it were floating on air. It goes from a sitting position of 26″ to a standing position of 43″ in about 1 second. A contemporary adjustable standing desk for a modern space! Buy this Now.
8. Bestar Electric Standing Desk
If you're looking for a versatile and durable desk with a spacious desktop, this option from Bestar may be perfect for you. It has a wooden top with a melamine finish that is designed to be resistant to scratches and scuffs.
The electric mechanism means that you can adjust from 29″ to 45″ with ease. You have a choice of picking from 9 different color desktops to suit your liking. Buy this Now.
9. Electric Adjustable Corner Standing Desk
The best standing desk for your office, this L-shaped desk gives you more space than other standing desks. You can easily adjust the height when you want to work standing.
It gives you ample space to hold your important documents in the legal-size file drawer. The utility drawers can hold your other work essentials. Buy this Now.
10. Vari Electric Standing Desk
This is one of the best standing desks for desktops as it sits on a sturdy frame with a steel stability crossbar. This makes it the most stable standing desk at any height. Also, it is large enough to accommodate many monitors, keyboards, a mouse, and more.
Its powerful but quiet motor with 3 programmable height settings lets you go from 25.5″ to 50.5″. The cool part is that you can program your Vari desk to memorize your favorite heights too. You can choose from multiple desktop finishes in wood to monotone colors including white, grey, and black. Buy this Now.