Whether it's the neutral tone mid-century modern wallpaper or the hairpin-legged writing desk or the Knoll Florence sofa, it's a runaway hit these days. The designs from the 50s and 60s have made a massive comeback in recent times. And looks like it's here to stay in its newest avatar – mid-century modern.
If you want to bring this trend home, wallpaper is a great place to start. In our book, a good mid-century wallpaper should have a subtle flowy geometric print, subdued bright colors, and not too much going on.
We looked around hard to pick the very best and found some real gems. Here are our top picks of the 10 best mid-century modern wallpaper ideas for inspiration.
Best Mid Century Modern Wallpaper Ideas for Home
1. Tessellate Mid-century Modern Wallpaper
This eco-friendly wallpaper has abstract shapes in tessellating design. The minimal bluish-grey curvy print has a classy vibe of the '50s designs.
Easy to install and reposition, this retro peel and stick wallpaper is fully removable too. A great option for renters if they want to create a temporary accent wall.
A mid-century accent chair and coffee table in the living room can use an accent wall adorned with this wallpaper. Buy this Now.
2. Mod Lines Print Wallpaper
The easy peel-and-stick woven polyester fabric of this wallpaper is great for accent walls. While the sleek print of mod lines on a subdued teal grey base makes this one stand out, it is also has a pleasant vibe around it.
Offering a cozy touch, this is one of the best mid-century modern wallpapers for your bedroom. Team it with a modern bed frame for a modern style with a retro touch. Buy this Now.
3. Archetype Bold Wallpaper
This wallpaper is good for that bold and distinctive accent wall in a contemporary or mid-century setting. It blends striking shapes, graphic designs, and accent colors with sleek metallics.
Make a statement with this archetype yellow & silver wallpaper. Or go for other great color options in the same design. Buy this Now.
4. Firebaugh Radius Mid-century Modern Wallpaper
Geometric shapes in interesting designs and subdued color palette of this wallpaper are all out mid-century. It will go great in any space of your house for an overall vibe or just a touch of it.
For instance, you can create an accent wall in your bedroom against a mid-century dresser. Or an accent wall in your dining room paired with a cool chandelier.
One of the best mid-century modern wallpapers for renters as it is ultra-easy to install and remove. Buy this Now.
5. Bold Retro Wallpaper
If you are looking for retro or nothing, then this vintage mid century wallpaper is a good option for you. With a neutral yet bold retro print, this water-activated wallpaper is sure to take you back to that era.
This one is best suited for farmhouse and rustic decor. But then you can always go creative and try to mix it with modern style decor. Buy this Now.
6. Vintage Print Wallpaper
With a pared-down design in a neutral color, this one from Spoonflower screams mid-century. The irregular rectangular shapes and a subdued gray background make it a versatile wallpaper.
Whether with a writing desk for your study or a dresser chest in your powder room, it will look great in any space. Buy this Now.
7. Jumbo Sketch Retro Peel and Stick Wallpaper
This wallpaper has bright yet muted accents on a subdued base. We like the interesting mix of red, green, yellow, and black on a dull gold background.
A self-adhesive wallpaper with peel and stick backing, it is also easy to reposition. Buy this Now.
8. Mid-century Modern Wallpaper – Pattern Play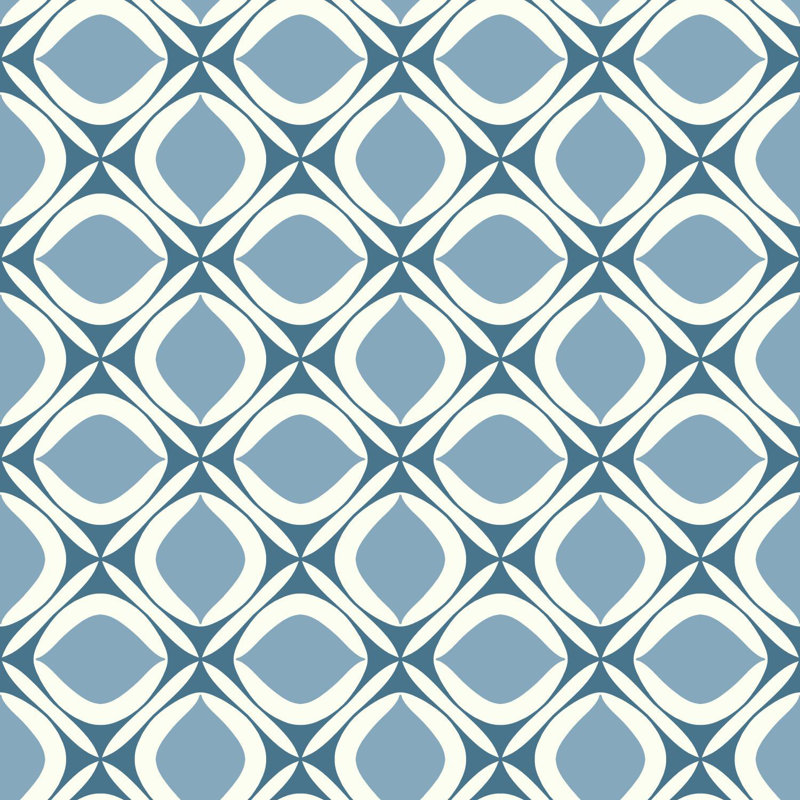 We love the geometric pattern with a near-neutral color tone of this wallpaper from Wayfair. The subtle colors in tricolored inks go well with retro-style furniture or even modern-style decor.
You can paste it all over the room to match up with your furniture. Or just use it on one wall for a little mid-century touch. Buy this Now.
9. Geometric Retro Wallpaper
The geometric pattern with a near-neutral retro color palette will go well with retro-style furniture. A good option for your bedroom wall against a retro bed frame and bed-side lamps. Buy this Now.
10. Green Griffing Wallpaper
This wallpaper bridges the gap between Mid-century Modern Style and Contemporary design sensibilities. The crisp pattern in muted colors has a welcoming feel to it. So whether it is a modern setting or a retro decor, it will do justice to both.
So even if you team it with a single-color accent chair and a modern desk, it will work magic. Buy this Now.