A standing desk provides you an opportunity to stay aware and awake during your workday. Standing up while you're working can actually help with concentration and working efficiently. Another bonus of using standing desks is the fact that you aren't being sedentary all day. You can burn some calories instead while you work.
Many standing desk options available in the market make it difficult to choose the right one. And if you want durability, affordability, and style all rolled in one desk, then the search can be never-ending. We scouted for the 10 best standing desks for work and came up with this list to help you take your pick.
1. Belda Adjustable Standing Desk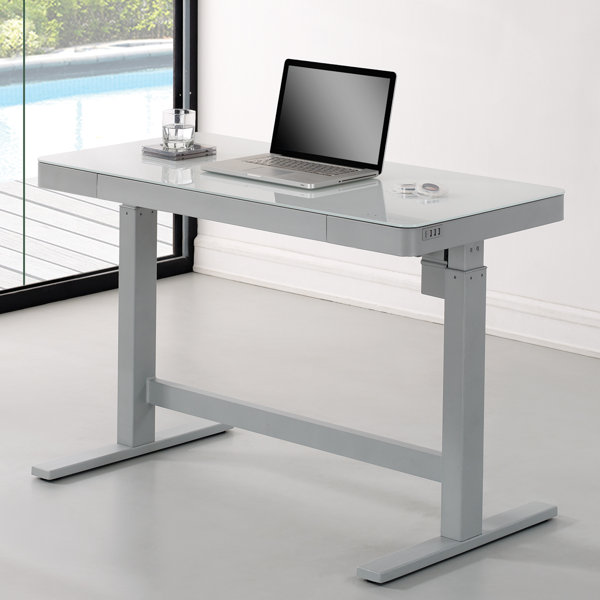 The Belda Standing Desk is versatile and works well if you need an adjustable desk with plenty of space. LED touch controls on the glass top help you adjust the height. And a button helps you lock and unlock the setting to avoid accidents.
It comes with a storage drawer to keep your supplies hidden but close at hand for when you need them. The classic color choices of black or white make this perfect desk for any home or office space. Buy this Now.
2. Knightsbridge Adjustable Standing Desk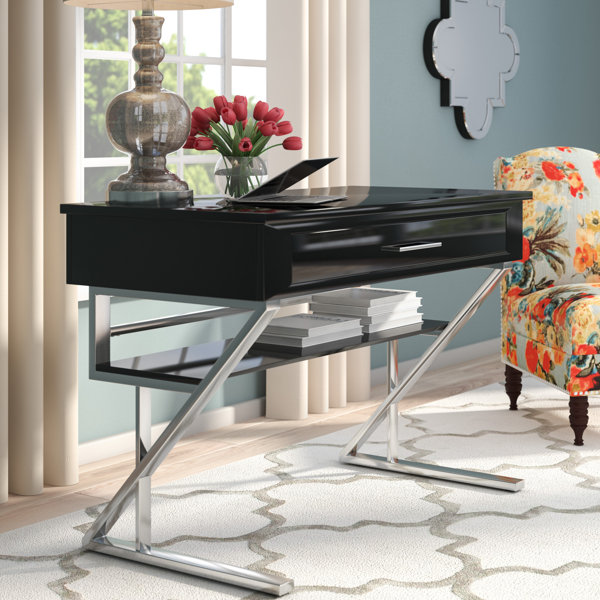 If you're looking for a desk with a timeless look, this Knightsbridge Standing Desk is ideal. It has a stylish black top with a brushed metal base.
Plus, the lift-top design of the desk provides you with storage for pens, papers, and other work needs. Buy this Now.
3. Tempered Glass Standing Desk for Office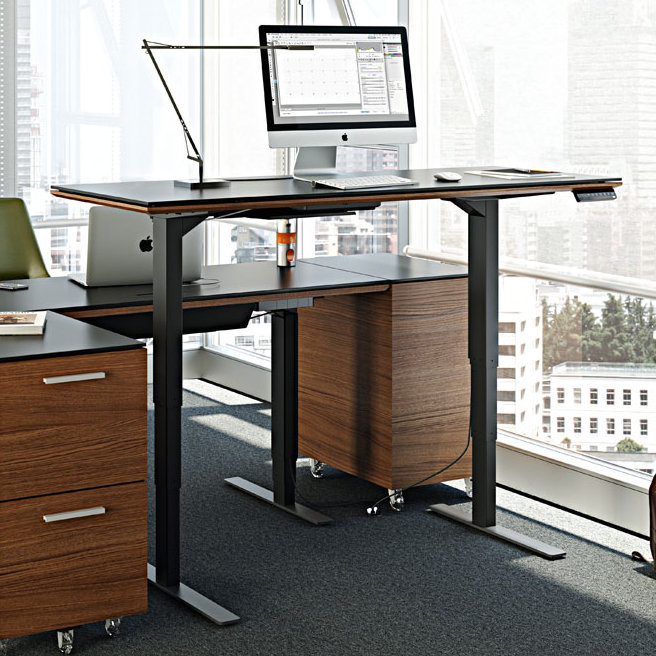 This Adjustable Glass Desk is the one of the best standing desks for your office as it's both – durable and stylish. It has a tempered glass top to protect from scratches and even fingerprints.
The best feature of this standing desk is the programmable keyboard. It makes it quick and easy to customize the desk height. A convenient wire management ledge ensures that your desk looks neat at all times. Buy this Now.
4. Standing Desk for Home Office
This Wooden Adjustable Standing Desk in a rustic wood frame and glazed pine finish is best suited for the home office. The clean lines and metal bar details add to the design appeal and lend a cozy feel to the corner where it sits.
This desk from Trent Austin Design has lifting desktop mechanism and space to store supplies and office essentials. Buy this Now.
5. Mobile Adjustable Standing Desk for Laptop
If you're looking for an affordable and compact adjustable standing desk, this option from Qwork may be just what you need. It can adjust from 27.5″ to 45.3″ for comfort while you're sitting or standing.
It comes equipped with 4 lockable casters so you can move it out of the way when you're not using it. Probably, one of the best standing desks for laptop. Buy this Now.
6. Manual Crank Durable Standing Desk
It is hard to imagine that this sturdy and stylish writing desk can be transformed into a standing desk. With a metal base and manufactured wood top, this Wooden Standing Desk has two height adjustments.
The light brown top and black base make for a functional table high on style. Team it with an elegant area rug and a modern table lamp to transform your workspace. Buy this Now.

7. Adjustable Standing Desk for Office
This beautiful oak and platinum finish desk from Hayneedle has a convenient tilting keyboard which makes typing a breeze. Also, you can keep your cords and cables tangle-free with its cable management system.
With 4 casters for easy mobility, this is one of the best standing desks is if you need to move the desk around frequently. Buy this Now.
8. Bestar Electric Adjustable Standing Desk
If you're looking for a versatile and durable adjustable desk, this option from Bestar may be perfect for you. It has a wooden top with a melamine finish that is designed to be resistant to scratches and scuffs.
The electric mechanism means that you can adjust from 29″ to 45″ with ease. Buy this Now.
9. L Desk with Electric Adjustable Standing Desk
The best standing desk for your office, this L-shaped desk gives you more space than other standing desks. You can adjust the height when you want to work standing.
It gives you ample space to hold your important documents in the legal-size file drawer. The utility drawers can hold your other work necessities. Buy this Now.
10. Minimalistic Crank Handle Standing Desk
This stylish adjustable height standing desk comes with an easily installable crank handle. It can be installed on the left or right side of the desk for quick and comfortable adjustments.
This is one of the best standing desks if you are looking for a simple and reasonable option. The adjustment heights vary between 29″ and 45″ allowing you to work sitting or standing. Buy this Now.
Comments
0