Modern platform beds are slowly replacing the box spring beds for more than one reason. Besides the obvious stylish variety you get to choose from, modern platform beds offer better comfort and utility. The headboards offer style and comfort, the hard surface is better for your back and the slats offer better air circulation to the mattress.
Additionally, you may even find modern platform beds that offer storage options. They are also compatible with all kinds of mattresses, including the memory foam mattresses.
Take your pick from these 10 best modern platform beds that are minimalist in style and complement any contemporary setting.
1. Upholstered Modern Platform Bed
This low slung modern platform bed has eclectic elements at play. The dark gray upholstered headboard with seamlessly integrated veneered nightstands to start with.
The dark gray fabric-wrapped mattress surround rails finish the contemporary luxe look. Place matching modern table lamps on the nightstands to further enhance the luxurious feel. Buy this Now.
2. Faux Leather Modern Platform Bed
With a tailored headboard and chrome finish steel base, this modern platform bed is all class. The faux leather headboard has a seam line in the middle and neat folds on the sides which make it an elegant piece.
The metal frame at the bottom and the European wooden slats offer this contemporary platform bed its strength and durability. Give your bedroom a cozy yet contemporary feel by adding a modern writing desk along with this modern platform bed. Buy this Now.
3. All Wood Platform Bed
If it's the peace and tranquility that you seek in your bedroom, you will want to take this modern platform bed home. This all-wood solid platform bed has rich woodgrain finish. The rectangular headboard has patterns inspired by tranquil ocean waves.
A sturdy slat system and center support accommodate any mattress. You can lay on top of it a memory foam mattress with or without the box spring. Chunky block legs provide 5'' of clearance for valuable under bed storage.
Add matching 2-drawer nightstands, 5-drawer chest or the 6-drawer dresser to complete the look. Buy this Now.
4. Modern Platform Bed with Storage
This modern platform bed with storage is for those who love the rustic look. It has a solid wood finish which gives it the character and the natural tone wood lends it the rustic feel.
The 12-slats of this modern platform bed can accommodate a fitting mattress of your choice. And its two drawers are perfect for storing clean linens, warm clothes, towels and more. Buy this Now.
5. Mid-century Modern Platform Bed
This mid-century modern bed is for those looking for a budget-friendly modern platform bed. Clean lines, small retro style legs and upholstered back – all make for a design that is classic and timeless.
The upholstered high-back lends style and comfort. Team it with a mid-century accent chair or a mid-century side lamp to complete the mid-century vibe. Buy this Now.
6. Modloft Jane Modern Platform Bed
This minimalist modern platform bed comes in an upholstered finish with a low profile headboard. It lends a zen feel that comes from a Japanese style platform bed while blending perfectly in any contemporary setting.
The readily available Moon Beam finish is perfect and versatile, but you can choose any color fabric that you like and customize it to your liking. Buy this Now.
7. Palo Alto Modern Platform Bed with Storage
This modern platform bed with storage adds a cozy earthy feel to the ambiance. Clean-lined boxy finish in brick brown solid wood design lends it that rustic cabin-chic touch while being elegant in looks.
It comes with two storage drawers on the bottom and is ideal for storing spare pillows or blankets. The tall solid wood headboard finished in clean straight lines adds to the rich feel while offering great comfort. Pair this contemporary bed with matching nightstands, chest and dresser. Buy This Now.
8. Manila Modern Platform Bed with Headboard
For many, white is just as contemporary as black when it comes to furniture. This modern platform bed with headboard in the white and grey finish is sleek and is sure to become the focal point in your bedroom.
The subtle grey touches add to the modern feel of this platform bed frame from Orren Ellis. Top it with grey bed covers and pillows for that ultimate contemporary feel. Buy this Now.
9. Wood and Metal Modern Platform Bed
The salvaged wood and contrasting metalware frame give this modern platform bed its raw urban appeal. Along with plush comfort, its robust iron accented frame makes it a durable bed. Simple yet stunning, this modern platform bed made from pine wood is going to add a modern majestic vibe.
This solid contemporary bed is going to inspire you to experiment. Rustic, industrial, or contemporary, it will fit in any decor theme in a gorgeous way. Buy this Now.
10. Japanese Modern Platform Bed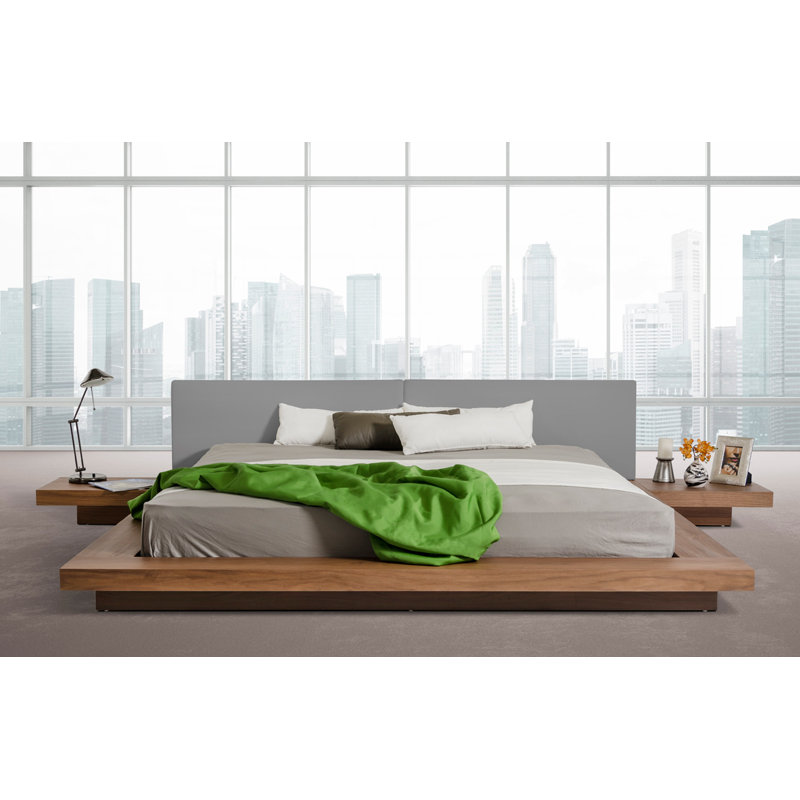 We love this low lying Japanese platform bed for it's minimalist yet stylish design. The headboard of this bed has a seam in the middle for a perfect symmetry to the clean design.
Available in different leatherette headboards and contrasting frames, you can choose the one that suits your decor. Top this modern platform bed with a memory foam mattress for both comfort and style. Buy this Now.
---
❤️ Pinning is Caring! Pin the Love! ❤️
Comments
0