Looks like the Mid-Century Modern Furniture is here to stay for long. And why not? Their timeless understated look, minimal fuss and practicality gel well with a variety of home decor.
For instance, you can add a mid century modern coffee table in a contemporary or a minimalist setting and add character to the setup. So how you can play around with mid century design is really, all up to you.
Here's our hand-picked selection of the 10 best mid-century modern coffee tables for some design inspiration.
1. Dunamuggy Mid Century Modern Coffee Table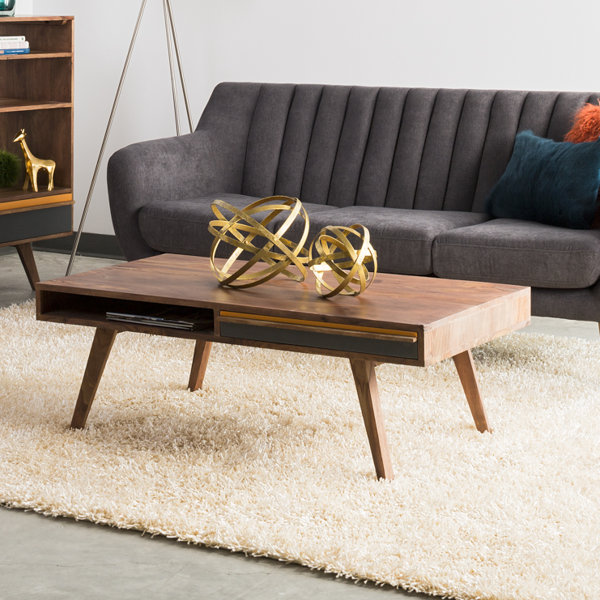 This coffee table made of Indian Sheesham wood is a solid example of a modern take on mid-century design. It possesses the characteristic sleek silhouette and clean lines. It has an open shelf on one side and a geometric two-tone grey and yellow drawer on the other. You can pair this coffee table with a mid century modern accent chair to complete the vibe. Buy this Now.
2. Perla Mid Century Coffee Table with Storage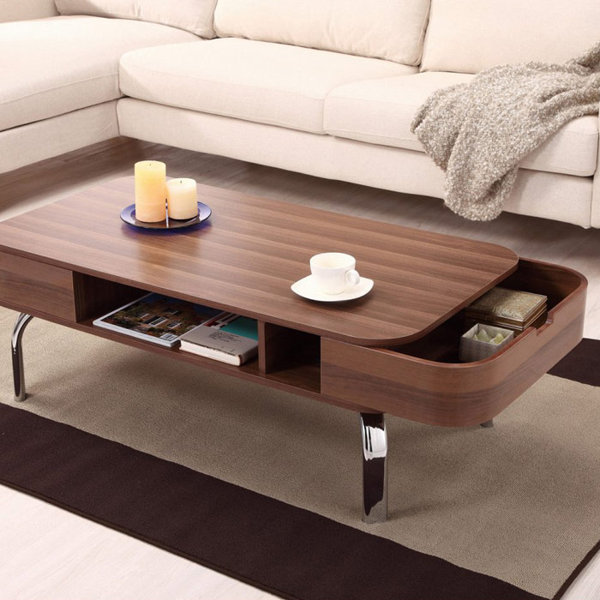 This functional mid century modern coffee table is what a small living room needs. It's compact, convenient and versatile. The table has two spacious pocket drawers on either side and a shelf between them. You can store books and utility items in these broad and high drawers. The table's design is minimal sans ornamentation and follows a curved structure. The chrome legs and a glossy lacquer finish of the table impart a modern vibe. Buy this Now.
3. Drumard Mid Century Coffee Table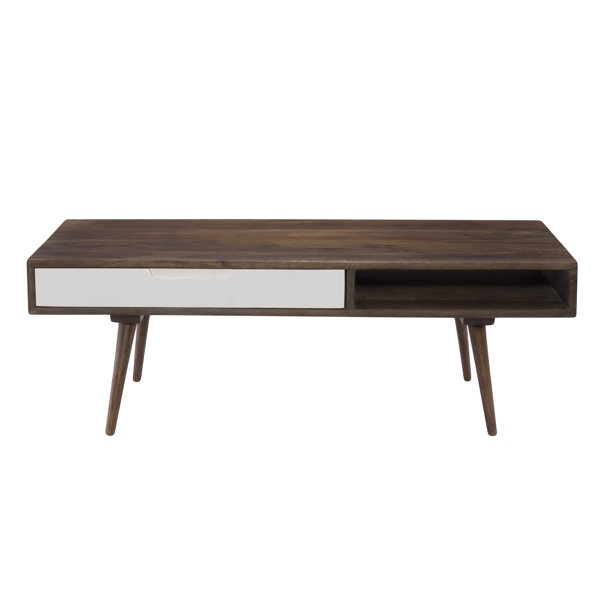 Made of a dark brown acacia wood, this mid century coffee table is best suited for a cool colored interior setting. It features a carved-in open shelf and a white drawer next to it. The stark contrast of the white drawer against the darker wood gives it a distinctive look. This play of colors, paired with the geometric lines, creates a sleek retro style. Buy this Now.
4. Malone Mid Century Coffee Table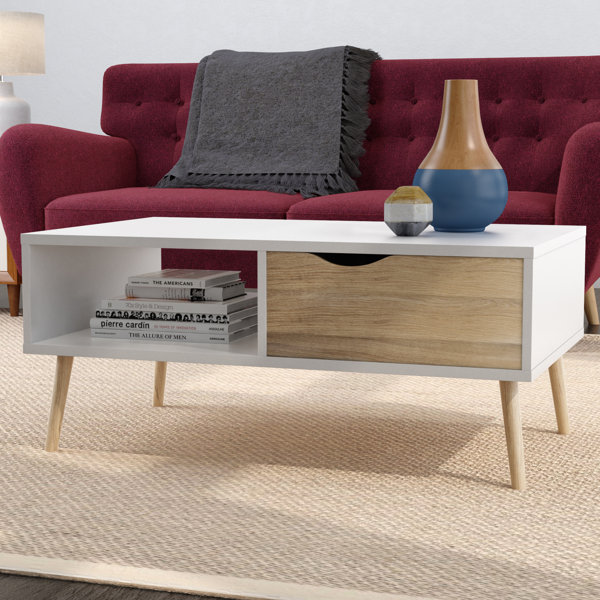 This mid century modern coffee table is boxy in silhouette. Under the tabletop, one side of it is an open shelf, and the other is a closed drawer. This Oakwood coffee table is not just spacious in its function, but also visually appears to be so. Except for the drawer and the legs, it is painted in white color. This contrast of white and light brown of the wood creates an airy look. Place it on a single tone or a mid-century modern rug for added character. Buy this Now.
5. Asymmetrical Mid Century Modern Table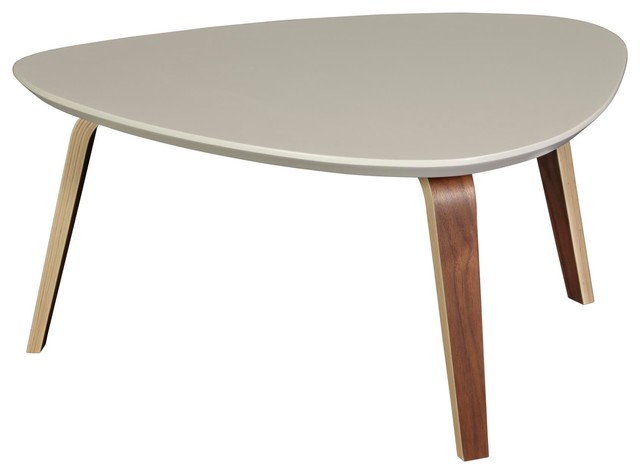 With its iconic and timeless silhouette, this table can be a great addition to any living room. Standing on three legs, this asymmetrical table is perfect for tight spaces. Made of walnut veneer with bent plywood legs, it expands the look of space in the room. This two-toned mid century coffee table with ivory colored table top goes well with modern upholstery. Buy this Now.
6. Seraphina Mid Century Coffee Table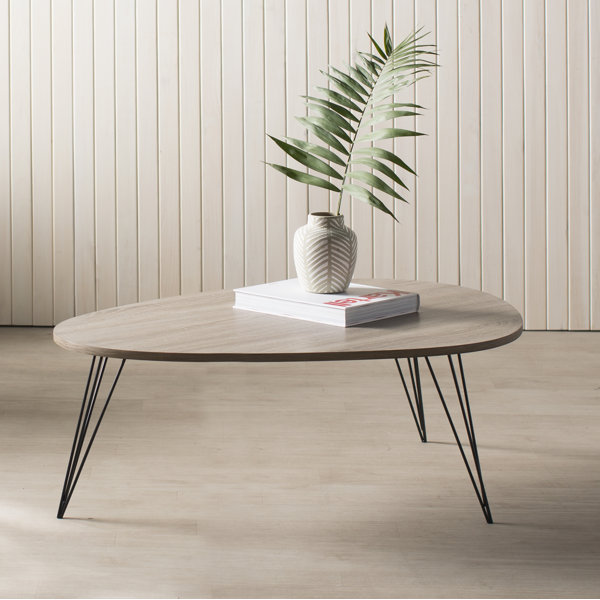 Give your living room a designer look with this classy mid century modern coffee table. It has an elliptically shaped tabletop made of an ash colored wood. The table stands on three angular hairpin legs in black iron adding to the mid-century appeal. The design aesthetics of this coffee table are well suited for a contemporary setting as well. Buy this Now.
7. Phoebe Mid Century Coffee Table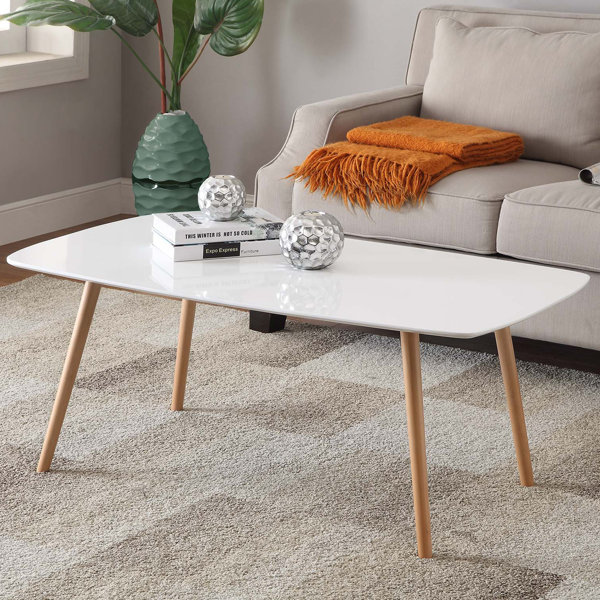 The white tabletop of this coffee table is sleek and has a gleaming piano finish. The modern white rounded tabletop is contrasted with the long solid wooden legs. Minimalist and tiny, this can fit into any space and make that space look stylish. Buy this Now.
8. Montgomery Mid Century Modern Coffee Table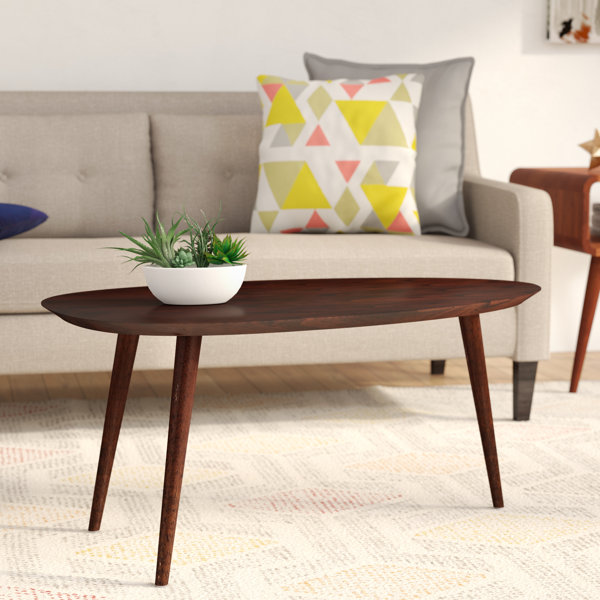 Made from a deep walnut brown Rubberwood, this coffee table from Wayfair is charming. While the material and color used are traditional, the design of the coffee table is modern. Standing on three slanted legs, the tabletop has a curved top and a solid finish. The design aesthetics of this piece make it a versatile mid century modern coffee table. Place it on the patio, living room or your den, it will do the job of making your space look stylish. Buy this Now.
9. Elizabeth Mid Century Coffee Table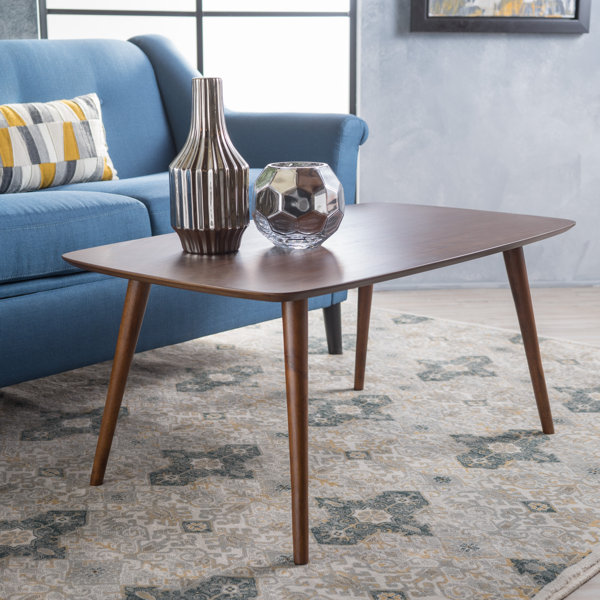 This is a classic mid-century coffee table design. The flared legs, slim profile, and natural finish – all scream mid-century modern design. Use it in combination with other mid-century modern pieces or use it as a solo piece depending on your need. Buy this Now.
10. Weathered Mid Century Round Coffee Table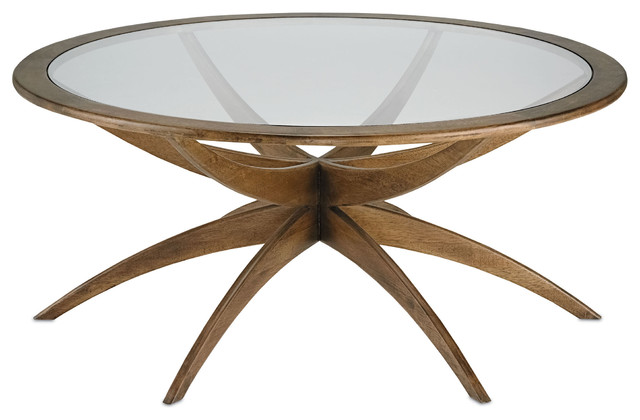 This oversized coffee table has six slim, arched legs which fan out to frame the round glass tabletop. The body of the table is made of weathered walnut-finish wood. In contrast, the tabletop is made of glass, adding a contemporary element to the table. This mid century round coffee table can be a great addition to your home with rustic decor. Buy this Now.
Recommended Reading:
10 Best Modern Writing Desks for Your Home
Mid Century Modern Beds You'll Love
Best Mid Century Modern Wallpaper Ideas for Your Home