People with serious health goals know the importance of right juicing. And these people know that they get the best results from the masticating juicers. Masticating slow juicers not only produce higher quality juice but also better yield.
So how do they work? Unlike centrifugal juicers, they turn at slow speed of 80 to 100 RPM generating less heat. This helps in preserving the enzymes, trace minerals, vitamins and other nutrients. These slow juicers take their time but extract every drop of juice leaving a very dry pulp behind.
You have a plenty of masticating juicers available in the market. So choosing the one that's right for you and fits your budget may be a little challenging. We've made it easy for you. Check out our list of 10 best masticating juicers, pick the one that you like and get juicing!
1. Omega NC900HDC Single Gear Masticating Juicer
One of the best masticating juicers in the market, it comes with 5 juice extraction settings. Use setting 5 and you get yourself the best masticating juicer for wheatgrass. And if you want to extract citrus juices, setting 1 will do that for you. The large size feed chute of this slow masticating juicer reduces the prep time. And to top it all, you can make nut butters, soy milk, almond milk and such. This Omega masticating juicer is built with high quality material and is very quiet.
Buy this Now
.
2. Omega VRT380HDC Vertical Masticating Juicer

This Omega vertical masticating juicer can juice wheatgrass to carrots with equal ease. Its unique design gives you the convenience of a centrifugal juicer and efficiency of a slow masticating juicer. The auto-cleaning system keeps the screen clean during juicing and increases it's efficiency. Post-juicing clean up is also a breeze because of this technology. It's patented technology helps to make soy milk and easy vegetable extracting. All these features make it the best vertical masticating juicer for commercial use. Buy this Now.
3. Breville Masticating Juicer

If you like a smooth pulpy juice texture then this masticating juicer by Breville is what you need. This slow masticating juicer crushes and squeezes to make juices with nutrients and a little fibre. One of the best slow masticating juicers, it juices everything from berries, oranges, carrots to wheatgrass. And it does all this quietly. For clean up you can disassemble the unit to wash, and use the included brush to keep your filter clean. Buy this Now.
4. Nutrihome Masticating Juice Extractor
This top rated masticating Juicer on Amazon can extract juice from almost anything. Get juicing gingers, celery, wheatgrass, carrots, apples, oranges and other vegetables for that
perfect detox juice
. This is the best masticating juicer when it comes to ease of assembling, operating and cleaning. The dishwasher-safe parts make cleanup a snap. Heavy-duty and stable body works quietly at less than 60 decibels. Added bonus is lifetime technical support, 12 months warranty and 30 day money back.
Buy this Now
.
5. VonShef Digital Slow Masticating Juicer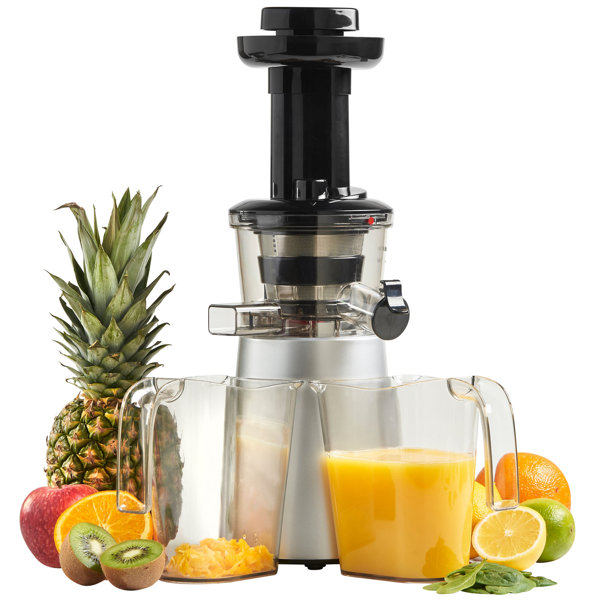 This digital slow masticating juicer by VonShef is probably the best masticating juicer under $200. It is suitable for most fruits, vegetables, nuts and beans. A 2 speed setting with reverse function helps in extracting delicious fresh juices. This masticating slow juicer for greens comes with a pulp container, juice jug, food pusher and cleaning brush. Buy this Now.
6. Tribest Slowstar Masticating Juicer and Mincer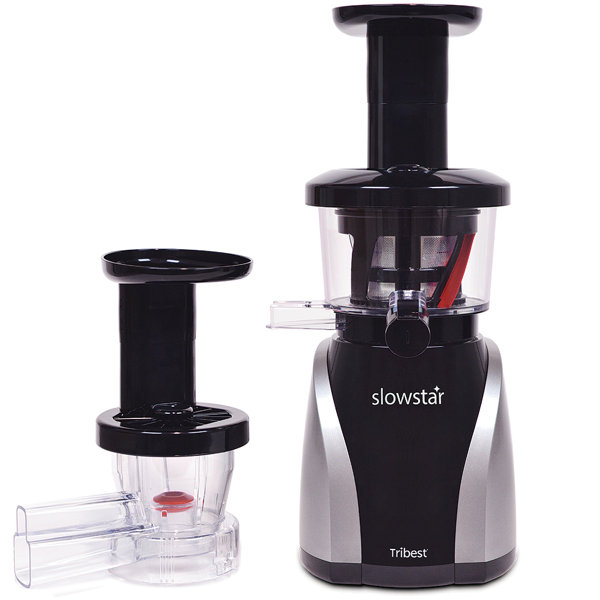 This masticating juicer with a mincing attachment is a 2-in-1 juicer and mincer. This is the best masticating juicer for greens, fruits and vegetables alike. The mincing attachment lets you make fresh salsas, frozen sorbets and nut butter too. Powerful 200-watt 3-stage speed reduction motor cuts through the toughest vegetables. It helps you in reducing the prep time. It is the best slow masticating juicer if you're looking for variety in your healthy diet. Buy this Now.
7. Hurom Rose Gold Slow Masticating Juicer
This good looking masticating juicer rotates at 43 RPM squeezing every drop of juice. It comes with fine and coarse strainers to control the amount of pulp to suite your taste. One of the best slow masticating juicers, it can work on vegetables, leafy greens, nuts and beans. This versatile juicer can also make ice cream with frozen ingredients. Buy this Now.
8. Kuvings Masticating Slow Juicer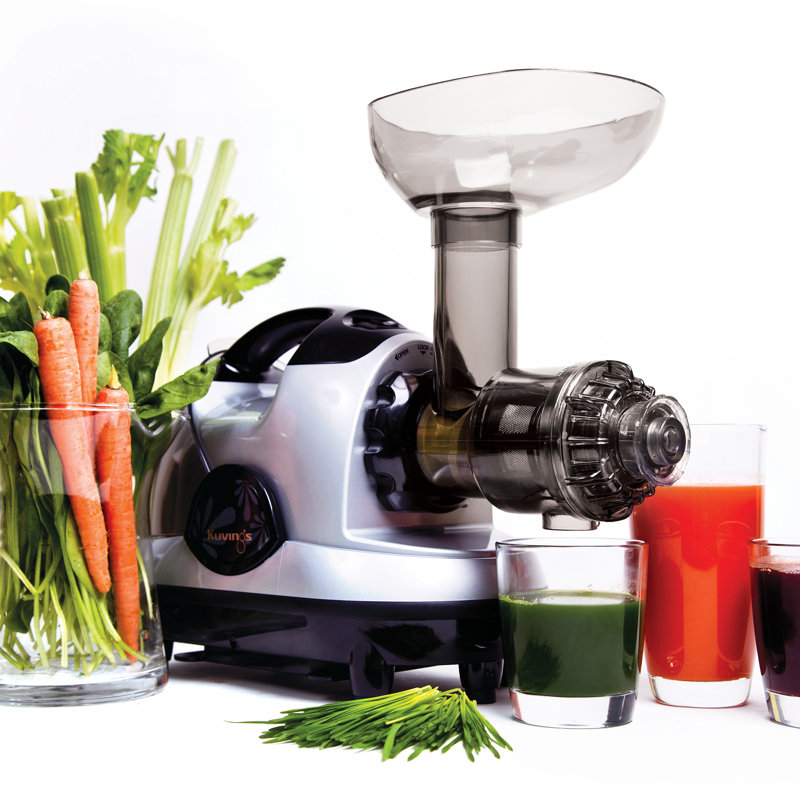 This is the best masticating juicer for greens as it can even juice something like cilantro with ease. That's not all. It comes with 7 different nozzles for versatility. It can grind coffee beans and spices, mince herbs and garlic, extrude pasta and whip up soy milk just like that. Probably, the best masticating juicer for those looking for a multi-purpose juicer. Buy this Now.
9. Tribest Vertical Masticating Juicer

You can use this masticating juicer primarily for juicing fruits and soft vegetables. Easy to clean and assemble, this juicer operates on a 240 watt motor with 80 RPM. It comes with a pulp strainer for extra pulp reduction and a convenient hand grip for easier use. This is one of the best masticating juicers for the money. Buy this Now.
10. Wide Chute Anti-Oxidation Slow Masticating Juicer
One of the top rated masticating juicers on amazon, it gives you high juice yield with least oxidation. The wide chute of this juicer reduces your prep and clean up time. All parts are made of high quality food grade antioxidant materials. This good looking juicer comes with 1 month free trial. Buy this Now.
Recommended Reading:
9 Best Juicers and Juice Extractors
Comments
0