Kitchen island is a place where you hang out with family and friends quite often. It's a place where you engage in light conversations while preparing a meal or fixing up fancy cocktails.
So it's natural that you want this area to be one that reflects your style and creates a great ambience. Kitchen island pendant lights are a great way to enhance this space and they can even double up as conversation starters.
Here's our hand-picked selection of the 10 best kitchen island pendant lights that are like modern pieces of art.
1. Penta Glo Kitchen Island Pendant Light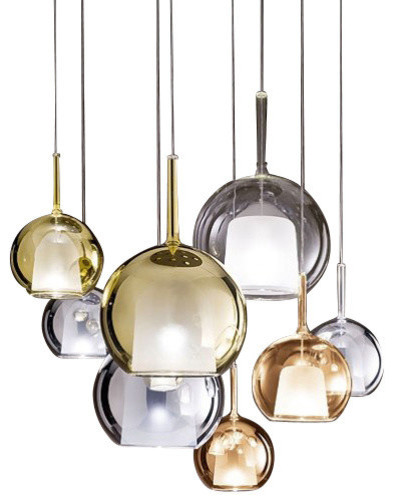 Chromed metal structure with a borosilicate glass diffuser makes this a sleek kitchen island pendant light. This pendant light for kitchen island gives you a lot of scope to play around when used in more than one number. It is available in different hues and sizes to help you create your own set. You can hang different sized pendants with interesting hues like pink-gold, gold, and black glass. Place them at different heights and you get the ambient pendant lights that beam with a soft glow. Buy this Now.
2. Antique Gold Leaf Chandelier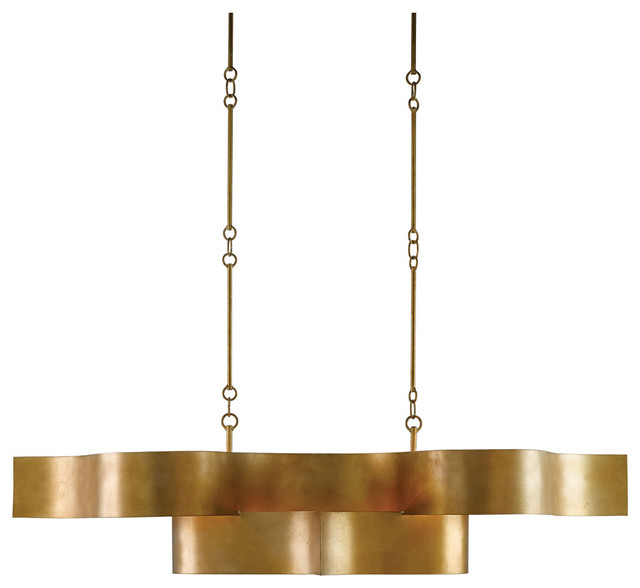 This grand pendant light for kitchen Island will never go unnoticed. A contemporary kitchen island pendant light, it is a piece of art. This two-dimensional chandelier pendant is massive and uses 6 bulbs. Hanging from a slim wrought iron chain, the pendant has an antique Gold leaf finish. Buy this Now.
3. Polished Chrome Kitchen Island Pendant Lights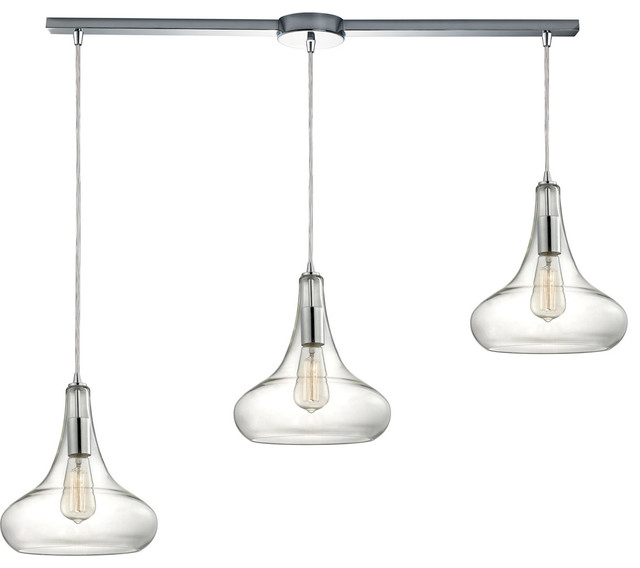 Attached to the same beam at an increasing height, the 3-lights kitchen pendant light is sleek and modern. These decorative kitchen island pendant lights come with a polished chrome finish. The downward focused light from the open bottom makes it the perfect task light as well. Buy this Now.
4. Spun Aluminum Kitchen Island Pendant Lighting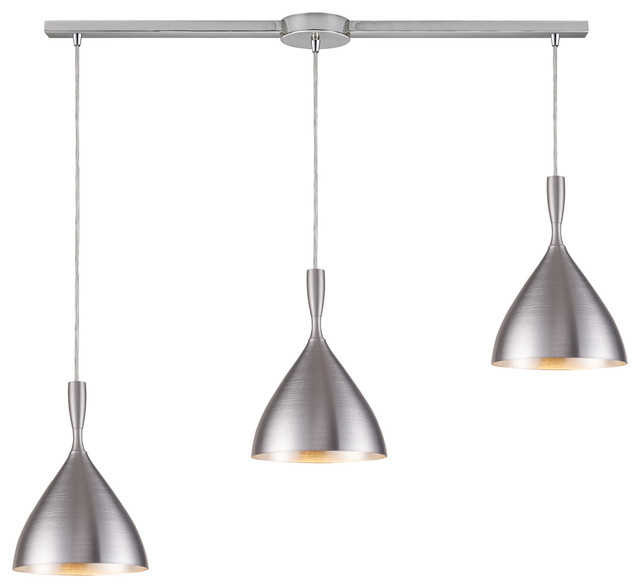 Made of spun aluminum sheets, this kitchen Island pendant light means business. Its fuss-free design allows the lights to be functional and aid you in the kitchen. And while it does that, its industrial design can up the style quotient of your modern kitchen. Buy this Now.
5. Sydney Collection Kitchen Island Pendant Light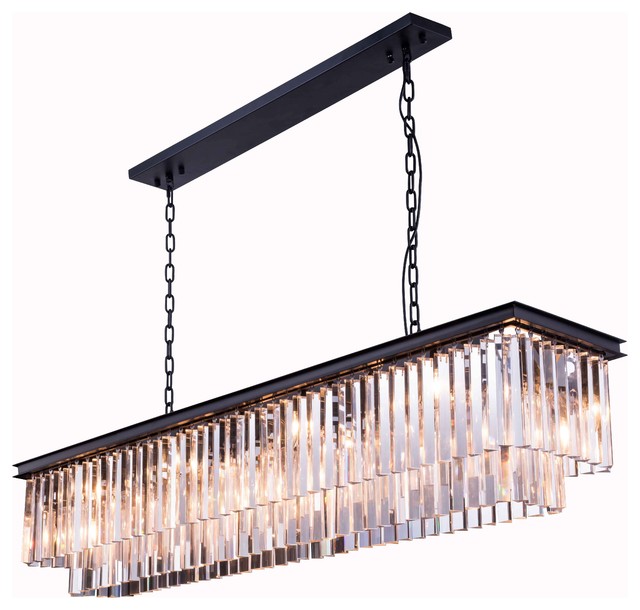 If you want to make a big impression, then this kitchen island pendant light is what you need. This polished nickel finish Chandelier has layers of rectangular royal cut crystals. The two-tiered chandelier pendant lamp will add class to your kitchen. This decorative kitchen island pendant light can complement a minimal themed kitchen. Buy this Now.
6. Textured Glass Kitchen Island Lighting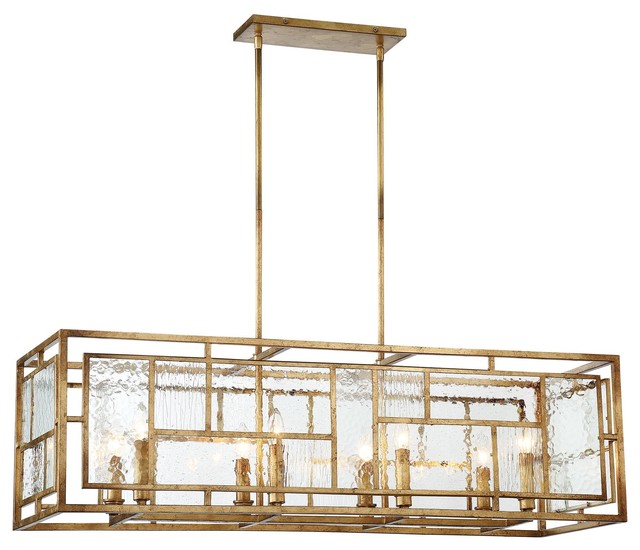 This pendant light will make your kitchen island your favorite romantic dinner destination. It combines contemporary geometric design with old-world candelabra-esque bulbs. What gives it the romantic vibe is the textured glass in which it is encased. Buy this Now.
7. Industrial Linear Kitchen Island Pendant Lights
These industrial pendant lights have Edison bulbs encased in glass and metal cage. These are big enough to be task lights and charming enough to be decorative lights. Match it with the industrial decor theme kitchen or add it to your modern kitchen for added character. Buy this Now.
8. 5-Piece Kitchen Island Pendant Lights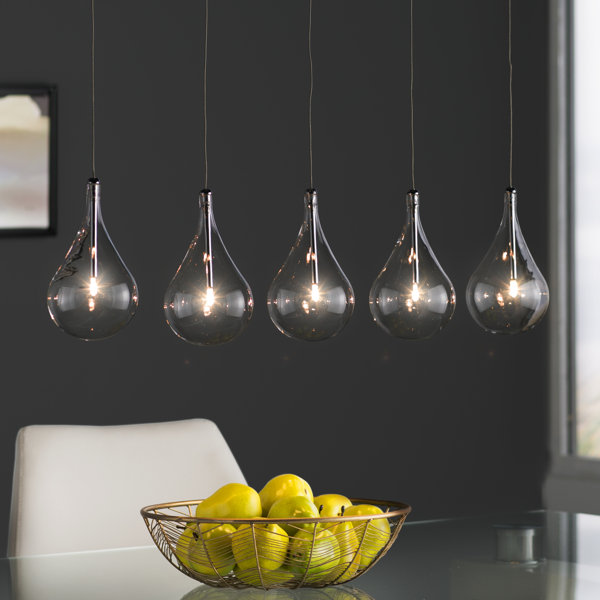 Minimal and chic, this 5-piece pendant is perfect for an open-concept kitchen of your modern home. A sleek chrome-hued base holds 5 bare bulbs hanging from a thin wire. You can also experiment with the lengths of the wire and switch it to create a quirky look. This kitchen island pendant light can aid you in your dinner prep and also draw compliments from your guests. Buy this Now.
9. Brushed Nickel Kitchen Island Pendant Light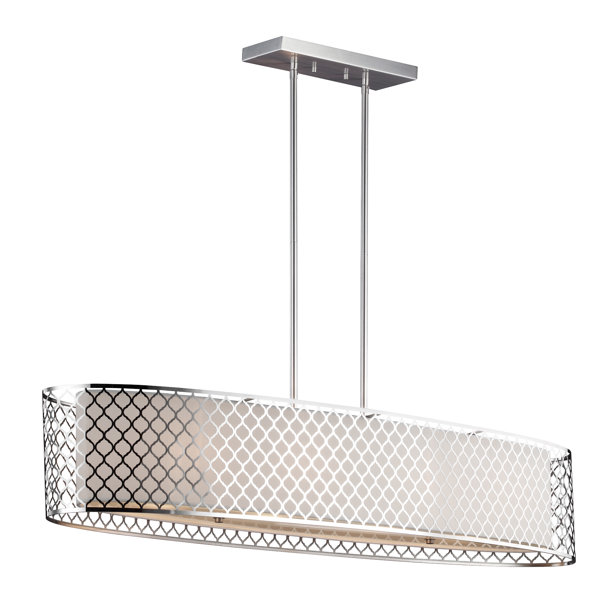 This kitchen island pendant light features a perforated metal body with a classic curved design. Frosted glass diffusers evenly distribute the light creating the perfect ambient lighting. The brushed nickel finish of this 4-light pendant for kitchen island gives it a modern touch. Buy this Now.
10. Smoky Glass Kitchen Island Pendant Lights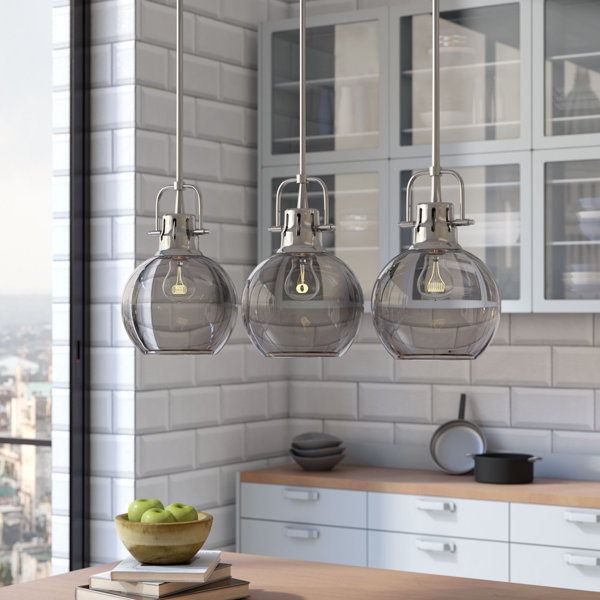 This contemporary-chic kitchen island pendant light has 3 smoke glass globes with Edison bulbs. The silver-toned metal rods and caps give it a sleek lantern-like look. A modern kitchen will get a warm glow with these charming kitchen pendant lights. Buy this Now.
Recommended Reading:
Must Have Small Kitchen Appliances
10 Best Kitchen Gadgets to Have Handy
Comments
0