A freestanding bathtub adds an element of beauty and luxury to your bathroom. They do require more space than traditional style bathtubs but they offer a luxurious way to take a bath at the end of a long day. Freestanding bathtubs can be found in different styles to match the design sensibilities and the decor of your bathroom. Here's our list of 10 best freestanding bathtubs for 2017. Take your pick and soak in some luxury!
1. Aquatica Freestanding Light Weight Bathtub
This award winning tub is a solid one-piece structure for safety and durability. The tub holds up to 63 gallons of water and has an interior depth of 21″ for plenty of space for a luxurious bath. It's ThermoMate foam layer on the underside ensures excellent heat retention. Made of EcoMarmor™ Lite in a classic white color, it lends a cool vibe to your bathroom. Buy this Now.

2. Freestanding Soaking Bathtub for Two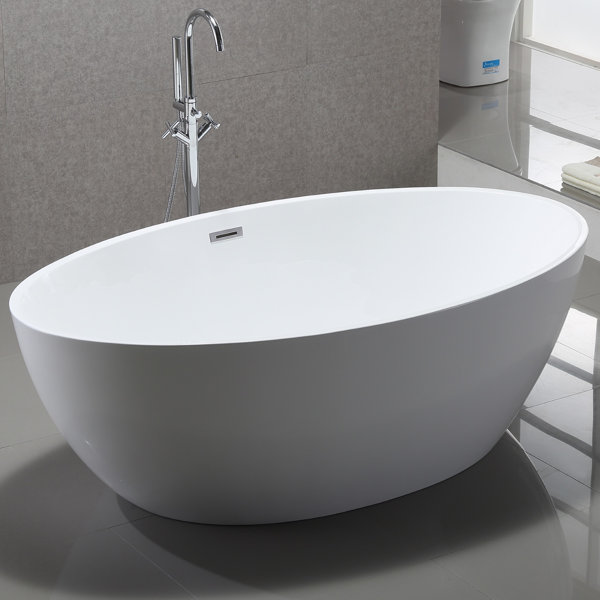 If you're looking for the best freestanding tub for two, take this one home. This tub from Vanity Art is large and can accommodate 68.7 gallons. This soaking bathtub is deep enough to offer a relaxing spot for a bath. The contemporary shape of this acrylic tub with chrome fixtures looks great in any bathroom. Buy this Now.

3. Santorini Freestanding Soaking Bathtub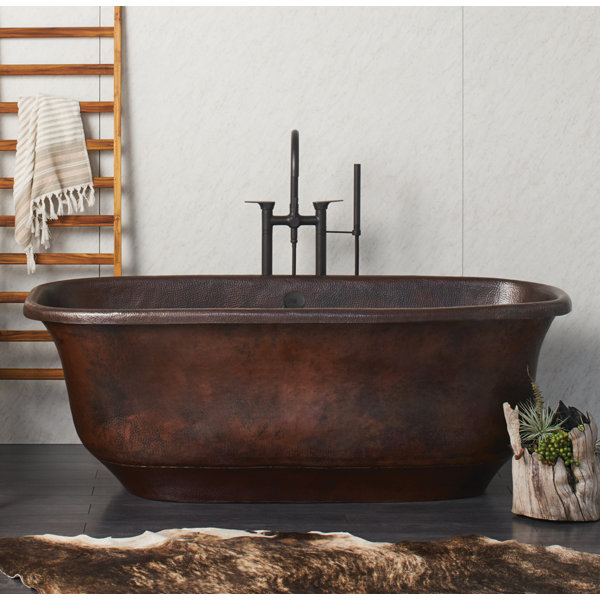 Perfect for the rustic home decor, this beautiful tub from Santorini has an antique copper finish. It is a pedestal style tub whose drain is located in the center. This oval shaped freestanding bathtub is capable of holding 105 gallons of water. The tub material is rust resistant and antimicrobial. Buy this Now.
4. Wyndham Collection Soaking Bathtub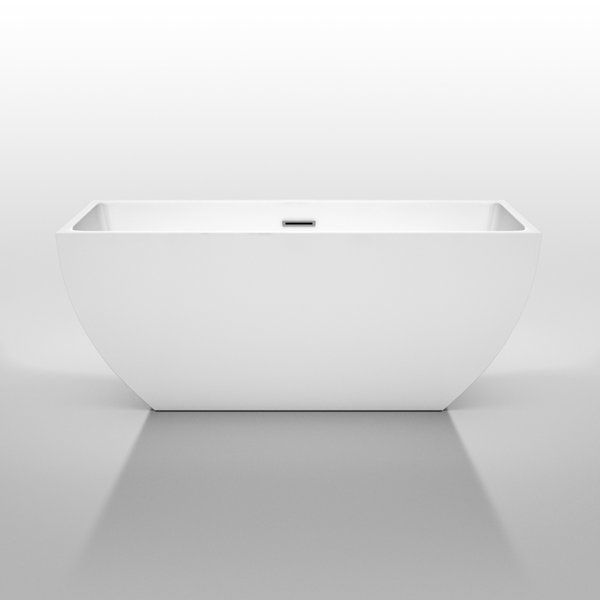 This bathtub is part of the Wyndham Collection, one of the best freestanding bathtub brands. It will up the style quotient of your bathroom in no time with its soft curves on linear planes. The acrylic soaking tub always feels warm to the touch. This 66 gallon capacity tub is equipped with a chrome finished overflow. It is probably one of the best small freestanding bathtubs that fits any bathroom without cramping it. Buy this Now.
5. Sleek Acrylic Freestanding Bathtub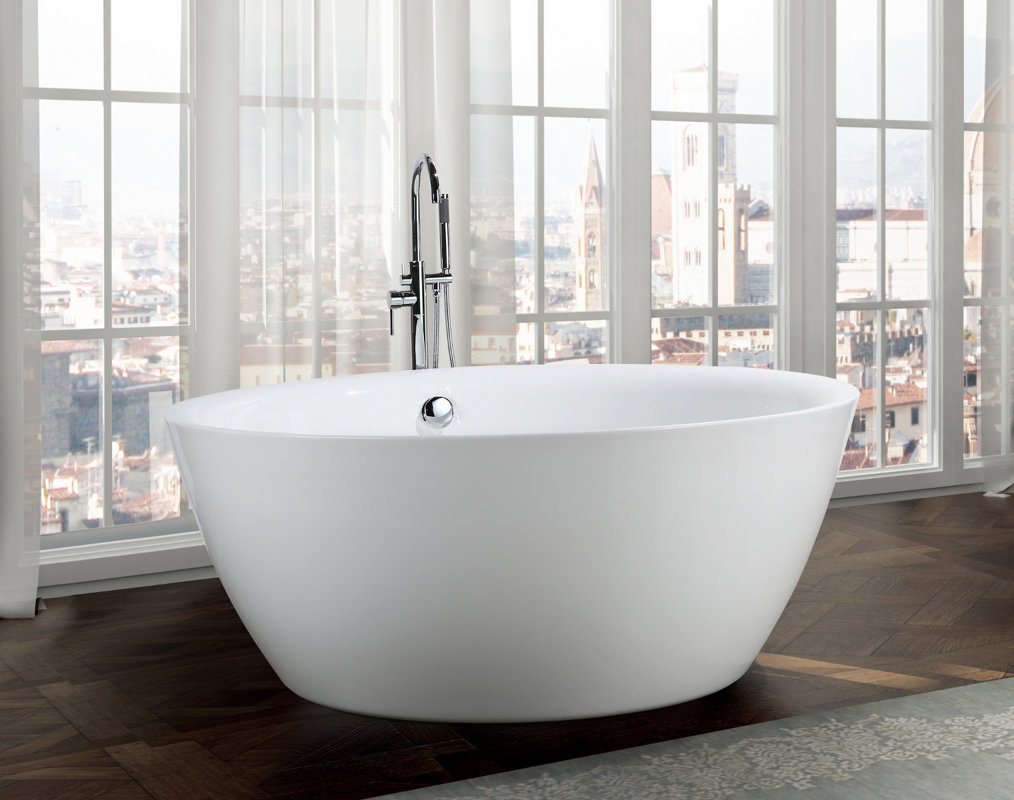 The Isabella soaking bathtub has a unique round shape giving you a lot of bathing space. This sleek acrylic tub has gloss finish with chrome accents. It comes with a self-leveling base, a hose, and an overflow valve. This is easily one of the best freestanding bathtubs for soaking in style and comfort rolled in one. Buy this Now.
6. Wilmington Freestanding Tub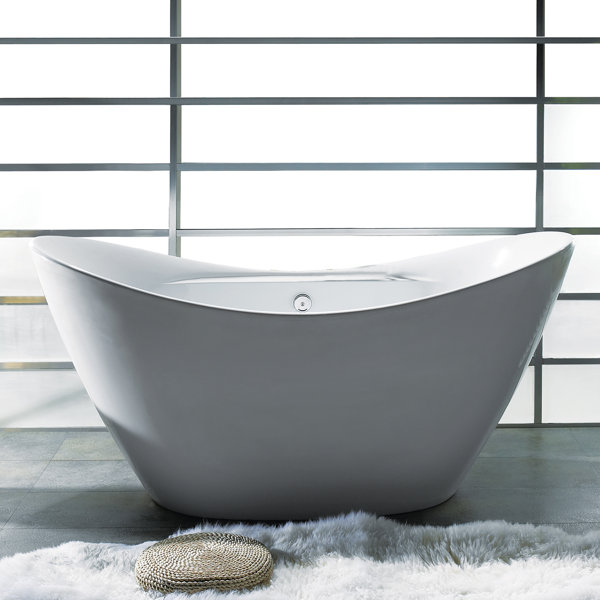 Perfect for a couple, this luxurious freestanding bathtub from Wilmington has a sloped top. The ergonomic shape perfectly fits to the body shape. A double-walled design helps keep water at the desired temperature for longer. It also comes with a built-in chrome overflow drain and pre-installed waste drain. Buy this Now.
7. WoodBridge Modern Freestanding Tub
One of the best cheap freestanding bathtubs, this glossy white acrylic beauty is a sleek one. It is designed with a slope for comfort and is deep to allow you to soak for a long period of time. The tub has a double-walled design for insulation and can hold up to 60 gallons of water. Buy this Now.
8. Ove Decors Serenity Freestanding Acrylic Bathtub
The sleek design of this free standing bath tub will give a feeling of space in your bathroom. Made of 100% acrylic, it has a glossy white finish and comes with an overflow and drain. The fiberglass reinforced leveling technology makes it easy to install. Buy this Now.
9. Aurora Platinum Rectangle Freestanding Soaking Bathtub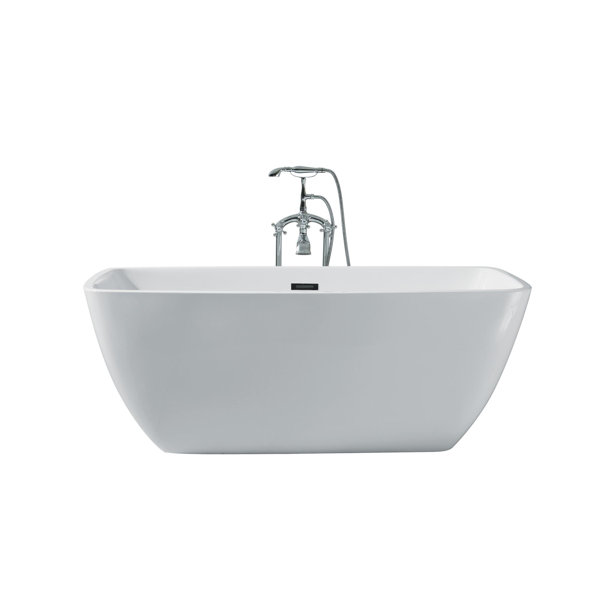 This freestanding tub is rectangular shaped and has an elegant look to go with any bathroom style. The tub is made of ultra-smooth acrylic and is resistant to corrosion. The concealed foot pegs allow for easy leveling. All this and it's price makes it one of the best freestanding tubs for the money! Buy this Now.
10.  Natural Stone Freestanding Soaking Bathtub
Made from natural stone, this tub from Native Trails will add a new dimension to your bathroom. You get to choose from 3 different finishes to suit your bathroom decor. The tub is able to hold 105 gallons and has excellent insulation to keep water warm for a long period of time. It comes with 2″ floor mounted drillings for installation. Buy this Now.
Recommended Reading:
10 Best Luxury Home Steam Shower Units
Top 10 Coolest Shower Curtains